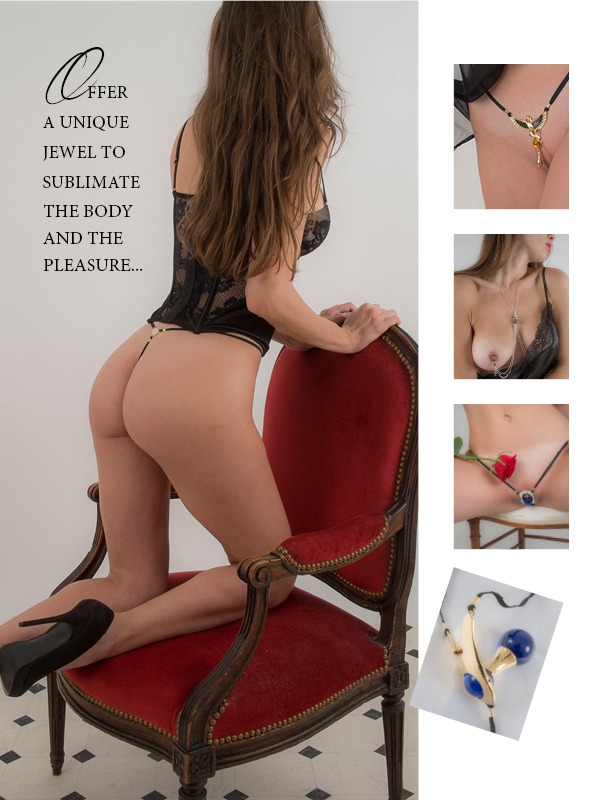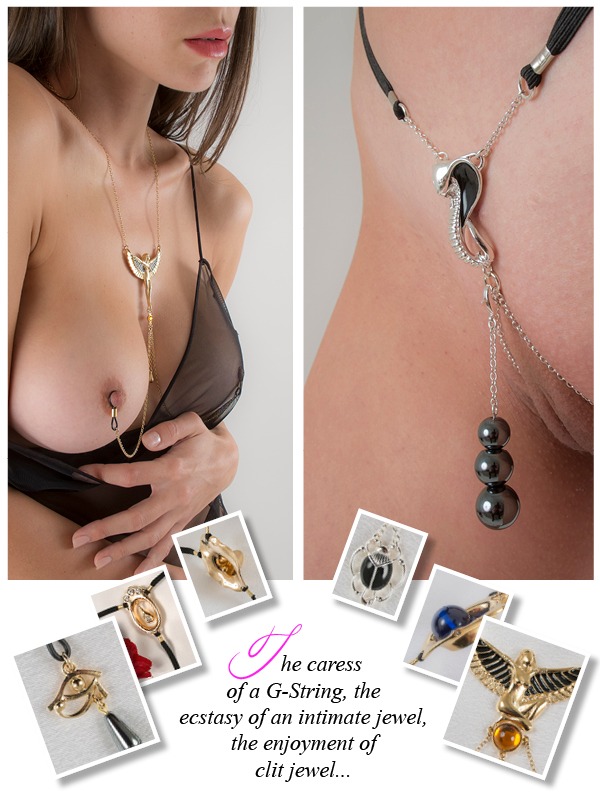 Travel into our shop to discover all our creations, from the most sensual to the most exciting! For Her : G-strings, breast and sex jewelry no piercing, clitoral and penetrating jewelry, waist and ankle jewelry, bra jewelry… For Him ; Penis jewelry, testicle jewelry, g-strings, anus jewelry… Succumb to unique creations for the pleasures of the body and Love. Receive your sexy jewel, in Express, in a beautiful velvet bag.
---
For Christmas 2020, Sylvie Monthulé reveals her new collection of erotic jewelry "The Breath of Pleasure"… I invite you to discover the majestic and insolent intimate jewels that slide like a sacred river between your curves! The goddess Isis, such a sensual and magical jewel, will cover the dune of your pubis with her wings and will leave kisses of pleasure on your sex… Secret beetles of gold or silver will shine on your nipples, or adorn your hips… The hieroglyphic jewelry will leave messages of love between your breasts and in the curve on the lower back… Sumptuous black cobras will rise over your intimacy, wrapping around your pénis… Under the transparent fabrics, the body naked is dressed in splendors inspired by Egypt, daring and powerful jewels, so that the skin succumbs abandoned to the wonderful Breath of pleasure!
---
Discover sublime and sensual videos of the jewels "The Breath of Pleasure"
Pleasure for the eyes when the jewel reveals itself like a treasure, pleasure for the body when it breathes on the skin, caresses it, capsizes it… before taking possession of your desires, your secrets and finally the jewel enflames you, with beauty and emotions.The G-Strings "The Kiss of Isis" and "Cobra Sacred Pleasure" are storms of voluptuousness in the heart of your curves, sublime appearances of an infinite eroticism.
---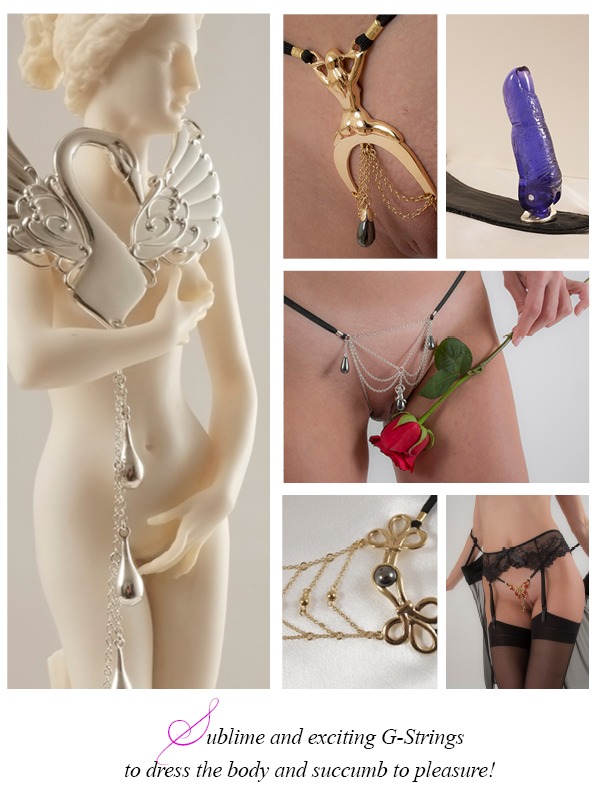 Sylvie Monthulé's jewelry thongs are erotic creations, that dress the body, to sublimate sensuality and voluptuousness! G-strings are sensual, provocative jewels, created to adorn the pubis and sharpen the pleasure. In gold or silver versions, available in all sizes of lingerie, they can be wise, sexy and naughty, or torrid! Open g-strings or sex hiders, g-strings with intimate and sexual secrets… Pubis jewels in the shape of Venetian masks, fans, roses, dragonflies… Thong jewelry with hematite pearls, crystals and strass, draped chains and amazing pendant… Discover irresistible and daring body jewelery to caress the skin, play with your sex or your clitoris, and sacralize femininity with refinement and eroticism.
---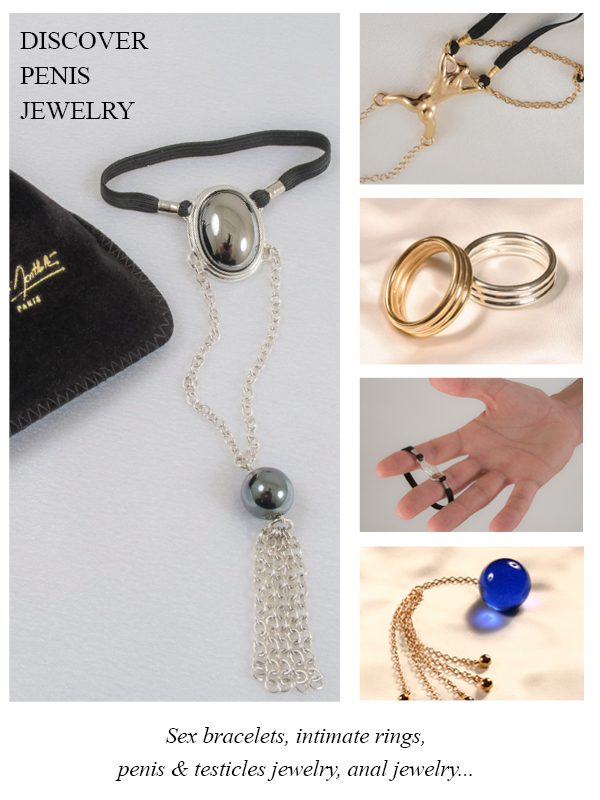 Discover Sylvie Monthulé's selection of penis jewelry: rings for penis, discreet or very visual sex bracelets, jewelry for testicles … Thanks to their elasticated base or their adjustable chain, men's intimate jewelry are very comfortable with a perfect fit. Available in gold or silver, hypoallergenic, made in France, they are designed to hug, embrace, caress and stimulate the penis! Opt for a penis ring available in different diameters, choose an adjustable penis bracelet, or order an anal jewelry …
---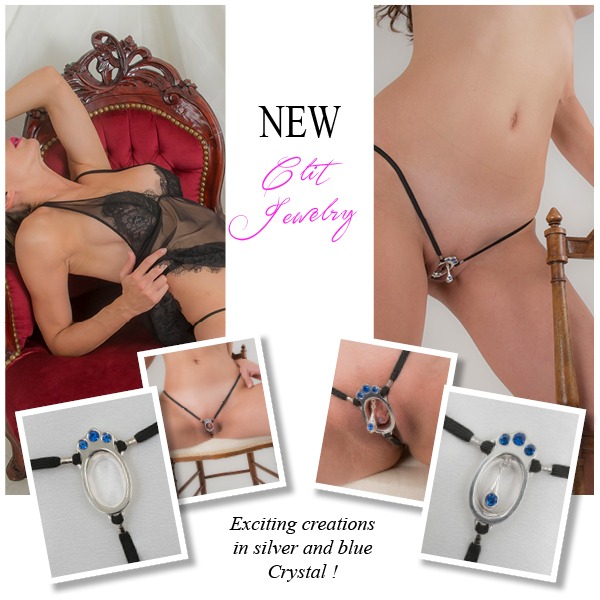 Discover new wonderful creations ; 
silver jewelry encrusted with blue crystals to crown the clitoris !
Sylvie Monthulé unveils new Clitoris Jewelry! Wonderful silver jewelry crowning the clitoris with blue sapphire crystals… You will choose the Clit'Ose silver jewel or the clitoris silver drop jewel with blue crystals. Two superb creations for pleasure that will enhance the radiance of this wonderful treasure! Lovely, comfortable and unique jewelry that sparkles in secret… so amazing, so exciting !
---
Discover the videos of our intimate jewelry and surrender…
All Sylvie Monthulé creations are made in France, with materials
of excellence. Yours orders are shipped in 24 or 48 hours,
in express, worldwide.