A thousand reasons to wear intimate jewelry
A thousand reasons to wear
intimate jewelry
Thousands of you are interested in body jewelry. Intimate jewelry, erotic jewelry, intimate jewelry … Whatever name you give it, it seduces more and more women and men. The reasons that push you to wear a sexy jewel are numerous! We discover them together.
For a new look on its nudity
To accept oneself, it is essential to be at ease in the life. To like oneself is even better to blossom at all levels and it starts with a positive look on one's body. The intimate jewel gives us a new vision of our nudity by sublimating our differences. A pulpy bust will be really beautiful with a breast chain, an asymmetrical vulva will be magnificent with intimate rings, etc…
The body jewel helps us to understand that perfection does not exist and that the areas of our body that we imagine to be disharmonious are in reality assets full of charm. Say goodbye to complexes!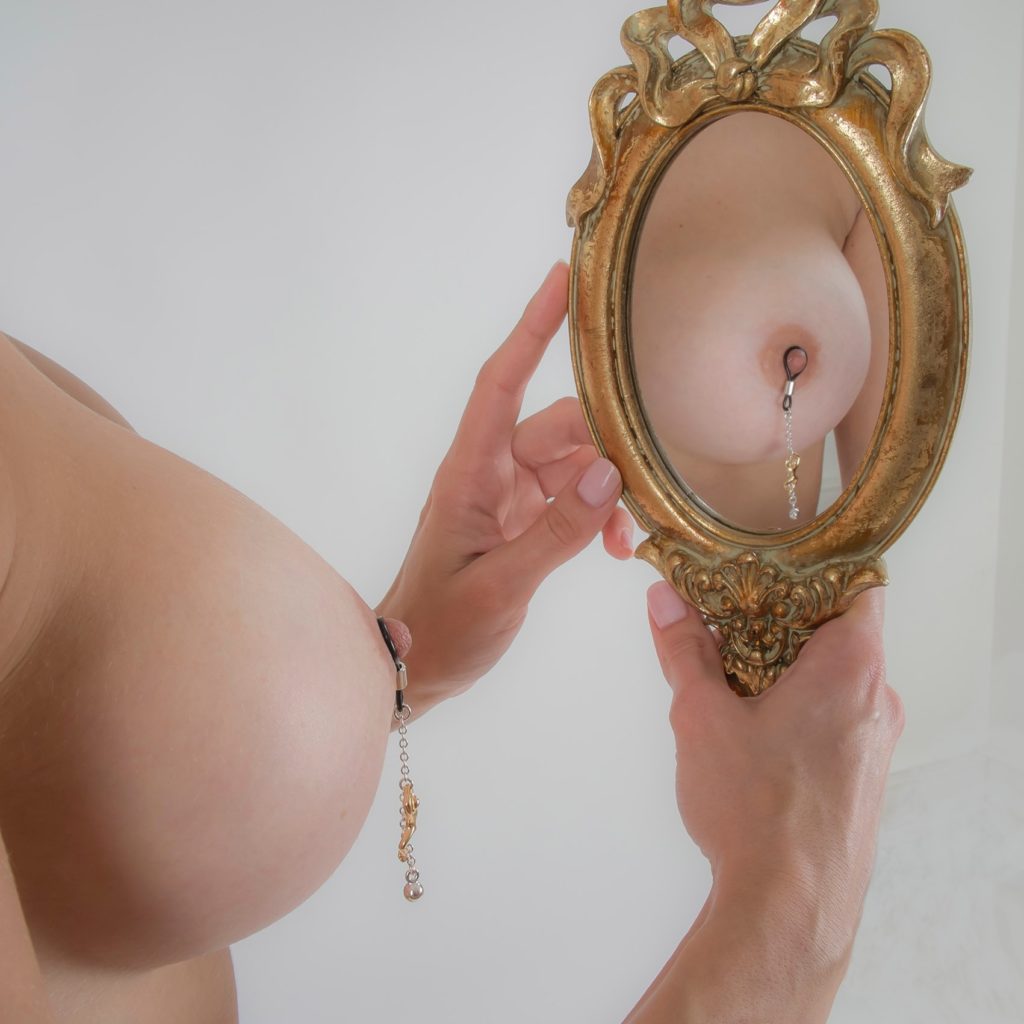 Develop fantasies and imagination
The erotic jewel helps us to develop our fantasies and our sexual imagination. The jewel invites us to play a game, to transform ourselves into an irresistible and fatal woman who hides a thousand sexy secrets or to dream of ourselves as a seductive man. To turn heads, to seduce in the blink of an eye…
The naughty jewel offers us an inexhaustible mine of sexy scenarios that we imagine just for the game or that we realize afterwards by pleasure.
Breaking down sexist and sexual taboos
The idea that women don't masturbate much, or even feel the need to do so, has disappeared in part thanks to the appearance of sex toys and sex jewelry! We have finally proposed accessories and ornaments intended for the pleasure of the female sex: jewelry and clit stimulators are a perfect example. The fulfilled woman gives herself pleasure and has more and more recourse to elegant and exciting objects to explore new sensations.
If we talk about penis jewelry that we thought for a long time "reserved" to gays, well know that many heterosexual men wear an intimate ring, piercing or not piercing, and that the rings of penis are more and more popular. The jewel is addressed to all and not any more to the persons that we classify according to their sexual orientation!
The desire to try by curiosity
We have all around us, a friend or a friend who made us intimate confidences on the effect that provokes the discovery of his (her) piercing on his (her) partners, and on the web we all discovered particular jewels which decorate erogenous zones…
The curiosity always pushes us to open new doors and to try an intimate jewel it is often the beginning of an adventure which proves to be stimulating and enriching and that we want to develop. Most people who have tried it easily admit that they want more!
To blossom mentally, physically and sexually
The desire to escape from routine, to experience new thrills by discovering new games of seduction, this is the main reason why you should dare to wear a sex jewel! Couples who are happy and fulfilled in their sexuality will find both mental and physical excitement.
Sex is not limited to torrid lovemaking between partners, it also includes an increase in our senses: the erotic jewel inflames the vision and the touch and sends a thousand stimulating signals to the brain to increase the excitement! A whole sublime alchemy!
Be unique in your sensuality
Finally, wearing a jewel on the breasts, on the vulva or on the clitoris, or even around the penis, is to be unique and different in your sensuality and with elegance. A jewel is an object elaborate and precious that we admire and that can also be the sign of a belonging to a culture, to a trend.
The erotic jewel, while being refined, has chosen to be private, hidden or secret, as some tattoos can be. Only the naked body will allow the jewel to be revealed!