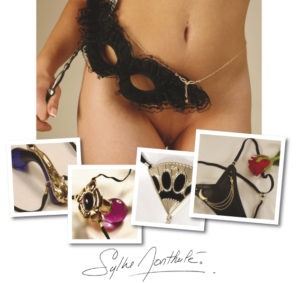 QUALITY AND WARRANTY
All Sylvie Monthulé jewelry are hypoallergenic, nickel free.
They are guaranteed 2 years.
They are made in France in our Workshops with the finest materials.
Our Jewelry are In gold plated 3 microns or silver plated 10 microns on metal,
or with very high gilding 16 carat and 24 carat gold finish on metal.
The brand "Sylvie Monthulé" is registered and protected.
Our Workshops have also an after-sales service.
The rubber band of your G-string is used, you want change it or modify the size,
you want change the fasteners on your nipple jewelry..? etc…
We are at your disposal to make a modification on your jewel.
We will ask you a small participation of the cost of shipment for your jewel
and if it's necessary a small cost depending on the changes or repairs to be made
You have a problem with a Jewel (size, defect, etc …)?
If you have a problem, contact us by e-mail and send us your jewel with your indication of modification.
We will do the modification or reparation, as soon as possible.
If you made a mistake when you place your order (size, color,reference),
Send us the jewel, we will make the change.  We will ask you only the cost of shipping
for the reexpedition of your parcel.
If we made an error in your order we will send a new jewel and
the cost of delivery at our charge
MAINTENANCE TIPS FOR YOUR JEWELRY :
– Wash with soap and water
– Do not use perfume directly on the jewel, perfume tarnish gold or silver.
– Silver darkens naturally, simply clean your jewelry with a soft cloth to regain radiance and brightness
– For reasons of hygiene" jewelry penetrating are no exchanged or refunded.
But of course we are at your disposal to make all modification on your jewel, at your request.
– Before and after each use clean your penetrating jewelry with soap and water.
– Use a lubricant before inserting
– Do not wear your intimate jewelry when your body is "irritated" or "sensitive".
– Do not share, your jewelry penetrating to other persons .

OSE CREATIONS designs and markets PENETRATING JEWELRY AND INTIMATE JEWELRY
FOR MAJOR PEOPLE AND ADULTS .ONLY;
(the firm is no responsible in case of another use).
Request, Claim : 
When ordering products and services, the Customer has a statutory period of 14 days to cancel the products at the reception of these.
As the registration of the order, all claims on products ordered from the supplier must be directly addressed to :
OSE CREATIONS –  269 AVENUE DU GENERAL DE GAULLE
94500 CHAMPIGNY SUR MARNE – FRANCE
contact@sylvie-monthule.com