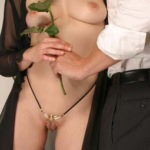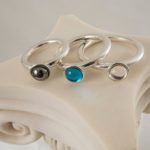 On the occasion of Valentine's Day, whose origins date back to antiquity, many are those dream to show audacity and originality. We dream to surprise his or her partner, to seduce. Bouquets of roses for Madam, fragrances for Mr… we want to invite others accessories ! And what is more exciting than an intimate gem, chosen specifically for Her or particularly for Him…
An intimate gem to say I love you
What more refined that a jewel to testify his love… and more…what's more exquisite than an erotic jewel to declare his passion ! Because this time, Gold or Silver adorn the body in secret. The jewel captures the breasts or dresses the pubis, the chain feels the curves of the backside, the ornament enlace the penis… as a unique and marvelous gift, a gift which reveals his prsence in the intimacy of the love, only between lovers ! This gem becomes the accomplices of pleasures, the witness of intense memories and all games lovers to come !
An erotic gift for Valentine's Day
Many believe, wrongly, that body jewelry are exclusively made for women. The body of the woman, sensual and voluptuous, inspires naturally the desire. Many women would like thet their partners wear more of their charms and innovate about seduction ! They are very many to offer sexy underwear to their companions or make them the surprise of a naughty evening…and also to buy them a gem for sex ! They dream to discover an intimate ring around the penis of their lover. Then, gentlemen date to choose a jewel for your penis …Your evening will be unforgettable !